Comparing Skill Sets: Paintless Dent Repair vs. Collision Repair - A Personal Perspective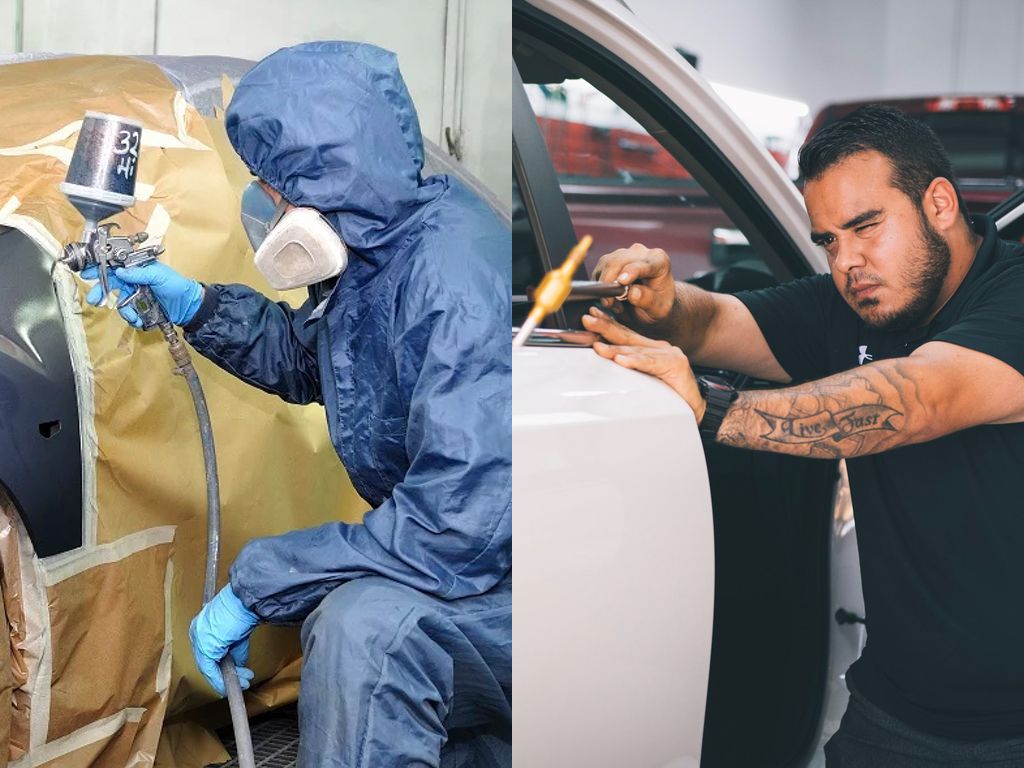 In the world of automotive repair, two distinct paths often unfold: Paintless Dent Repair (PDR) and Collision Repair. Both fields offer unique challenges and opportunities, but as the owner of Dentless Touch, I'd like to share a personal perspective on why PDR often emerges as the preferred choice for automotive enthusiasts seeking a fulfilling career.
Paintless Dent Repair (PDR) Technician
Skill Set: Precision and Artistry
Attention to Detail: PDR technicians are true masters of precision. They possess an exceptional ability to spot and meticulously correct every dent and ding on a vehicle, ensuring a flawless finish that leaves no room for imperfections.
Finesse: PDR is nothing short of an art form. Technicians utilize specialized tools to gently manipulate metal, requiring a delicate touch and an in-depth understanding of a vehicle's structure. This is where the true essence of craftsmanship shines.
Problem Solving: PDR technicians are creative problem solvers. Every dent presents a unique challenge, and their job demands innovative solutions to restore the vehicle to its original condition seamlessly.
Collision Repair Technician
Skill Set: Structural Knowledge and Restoration
Structural Expertise: Collision repair technicians specialize in repairing vehicles involved in accidents. Their expertise lies in comprehending a vehicle's structural integrity, frame alignment, and safety systems.
Welding and Metalwork: Proficiency in welding and metalwork is a hallmark of collision repair technicians. They often find themselves replacing or repairing damaged body panels and frames.
Paint and Finish Work: Their skill set encompasses painting and refinishing vehicles, ensuring that the newly applied paint matches flawlessly with the existing finish.
Why Paintless Dent Repair (PDR) May Be the Preferred Choice for Enthusiasts
Preserving Vehicle Integrity: PDR technicians focus on preserving a vehicle's original factory finish and structural integrity. For automotive enthusiasts like myself who cherish the authenticity and value of classic cars or high-end vehicles, PDR aligns perfectly with this perspective.
Aesthetics and Craftsmanship: PDR allows enthusiasts to showcase their attention to detail and craftsmanship. The ability to transform a damaged vehicle into a work of art is a source of immense pride for both the technician and the owner.
Sustainability: PDR is an environmentally friendly choice. It reduces the need for filler materials, minimizes waste, and contributes to a more sustainable automotive industry—a win-win for enthusiasts and nature alike.
Entrepreneurial Opportunities: PDR technicians often have the option to start their own businesses with Dentless Touch's affiliate programs, giving them greater control over their careers and the potential for financial independence.
Personal Satisfaction: Witnessing the transformation of a vehicle and the satisfaction of a delighted customer is a deeply rewarding aspect of a PDR career. It's not just about fixing dents; it's about positively impacting people's lives.

As the owner of Dentless Touch, I've seen firsthand the magic that Paintless Dent Repair (PDR) brings to the world of automotive restoration. It's more than just a job; it's a vocation that intertwines artistry, precision, and a deep respect for the vehicles we work on. PDR is about preserving the beauty and soul of automobiles, and it's a career path that resonates deeply with automotive enthusiasts.
Whether you're drawn to the art of precision, the thrill of creative problem-solving, or the desire to leave a lasting legacy on the vehicles you touch, PDR offers a fulfilling journey. At Dentless Touch, we take pride in nurturing this passion and skill set, creating an environment where your automotive enthusiasm can truly shine.
So, if you're considering a career in the automotive industry and share our passion for turning the ordinary into the extraordinary, PDR may be your ideal path. It's a journey that transforms not only vehicles but also the lives of those who embark upon it. Welcome to a world where art, craftsmanship, and the love of automobiles converge – welcome to the world of Paintless Dent Repair.

Dentless Touch Training

Dentless Touch Chicago

Dentless Touch Tools

Dentless Touch Expertise